As I said before, when I want to re-do a men's T-shirt, the first thing to go is the sleeves. After thinking about that for a bit, I thought I'd try using a pattern for a raglan-sleeve shirt (actually pajamas) and some extra T-shirt fabric.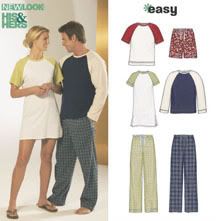 NEW LOOK 6321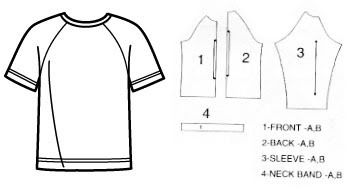 According to the instructions, you'll cut out the front and back "body" pieces (1 and 2 in the illustration) on the fold and sew them up the sides. Since my T-shirt was already there around the torso, all I had to do was trace the pattern with chalk at the sleeve. I lay piece 1 on the front and lined up the left side of it with the left side of the shirt. To trace the pattern on the right-hand side, I flipped the pattern piece over and lined up the right side of the pattern to the right side of the shirt and traced in chalk. The same is done on the back of the shirt using pattern piece 2. Then I cut the sleeves off along the chalk lines.
I cut the sleeves out of my other fabric (you can use another T-shirt, too) and followed the directions from there. I pinned them onto the shirt and sewed them together.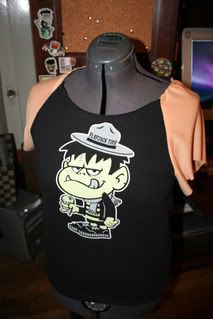 Since the pattern I used was for pajamas, the sleeves were a bit large. You may need to shave off some of the sleeve fabric for them to fit you correctly. I also decided to leave the hems raw and opted not to use the neck band. To keep everything together, I sewed a little elastic underneath the sleeve at the neckline. That kept my shoulders from drooping.
You also may want to sew up the sides of your shirt to make it fit better in the torso.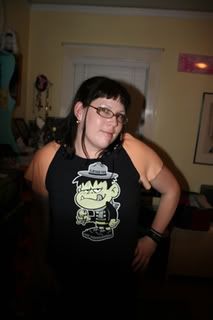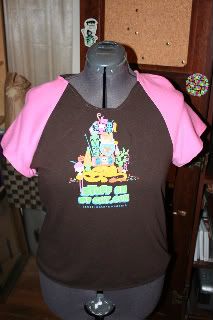 Is your shirt too small? Try adding side panels like my sister,
Liz
, did: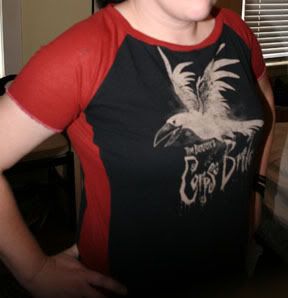 What kinds of variations can you think of?